About Ainsley's Angels Education
At Ainsley's Angels of America, education focuses on inclusion, awareness, and celebration of differences.  We aim to foster the use of people first language, as we know and understand that a diagnosis never defines an individual.  We also recognize that diagnostic labels and medical terminology can be confusing and overwhelming. This page will aim to clarify some of those terms.  We also strive to break down any preconceived barriers that exist related to individuals with physical limitations or different abilities and aim to include ALL people. 
Email us at Education@AinsleysAngels.org
Below are some valuable resources to help you to be an Angel and educate, celebrate and promote inclusion in your every day lives! 
People First Language
What is a disability?
Problem versus Need
Basic Medical Terms
Remember, a disability description or term is only a medical diagnosis.  It does not define the person with the diagnosis.  "People first language" respectfully places the PERSON before the descriptive term and also focuses on a disability as a small component of the whole person.  Similarly to having brown hair, or blue eyes, a child may have a diagnosis such as cerebral palsy or Down Syndrome but it is not their only or most important characteristic.
For example, we encourage the statement "people with disabilities" as opposed to "the handicapped or disabled" or "she has autism" instead of  "She is autistic".
This type of language encourages inclusion, equality and respect.  Join us in making our words matter!
For more examples or information about people first language visit:
https://www.thearc.org/who-we-are/media-center/people-first-language
https://www.inclusionproject.org/lets-all-play/people-first-language/
Simply stated- A disability is a body part that works differently.  It may be an arm, a leg, a heart, or a brain, a combination of several body parts that work differently, OR it may be the absence of a body part.
Some people acquire or develop disabilities as they age, through accident, or illness.  Others are born with a disability due to trauma at birth, genetic combinations, and sometimes for no known reason at all.
There are all kinds of devices that people with different abilities can use to accomplish their goals.  Eye glasses, walkers, wheelchairs, breathing devices, braces, crutches, canes, communication devices....The list goes on and on!
Sometimes people see that someone is a little different from themselves and they feel sorry for them. They aren't sure how they should act, or what they should say, or where they should look...
Some basic tips:
-Say "Hi" and introduce yourself- Although the person you are saying hello to may or may not be able to respond, they want to be included and have friends too!
-When talking to people with different abilities or their caregivers, try not to say things like "What happened?", "What's wrong with you (him/her)?"
- As you get to know the person you will learn more about them, and they (or their caregivers) will share what is important.
-Don't assume that someone needs help...always ask first. As a person with a disability accomplishes a task, it might not look like the way you do it but they may not want you to assist.  Make sure that when you are helping you do it in a way that the person is comfortable with.  (For example, don't push or touch a wheel chair or help with other assistive devices, leg/arm braces or splints, with out asking first, and then getting guidance on how you can best help)
-Focus on what a person CAN do, not what they have difficulty with.
Remember we are all PEOPLE first, we are ALL different, and TOGETHER, we are able to accomplish much more than we ever could accomplish alone!
When we do need to talk about someone's needs, it is important to think about how we frame our thoughts.  When we speak about our selves we often focus on our needs. For example, we might say "I need to wear glasses to read" or "I need to wear braces to straighten my teeth".  We don't usually say "I have a problem with my eyes" or "I have a problem with my smile".  Likewise, when we are required to help others, we should focus on the need and not the problem.
Rather than focusing on problems or what can't be done, focus on the positive...what CAN be done or used to accommodate, adapt and overcome any given obstacle!
For example...
Instead of "He can't walk" center on "He uses a wheel chair"
Instead of "She can't talk" focus on "She uses a communication device", or "He communicates with his smile or facial expression.
When in doubt, think to your self, "How can I turn this negative into something positive?"
Muscle Tone- Can be classified as "increased" or "high tone" or "hypertonic" (tight muscles) or "reduced" or "low tone" or "hypotonic" (loose muscles).  It is important to note the muscle tone is NOT strength, it is how muscle reacts to being stretched
Clonus- the uncontrollable bouncing or shaking of muscles in response to a stretch.  Muscles contract rapidly creating a "bunny foot" type movement (quick bouncing) and is most commonly seen in ankles and wrists but can be at any muscle that can be stretched.  It is not dangerous and rarely causes pain or discomfort for the individual experiencing it.
Spasticity- implies increased muscle tone, muscles are in continuous state of contraction making arms and legs feels stiff, rigid and resistant to movement.
Motivational and Inspirtational Speeches
Literary Works
Motivational and Inspirtational Speeches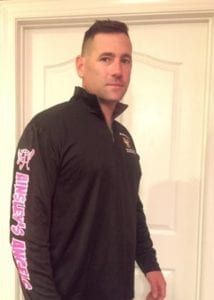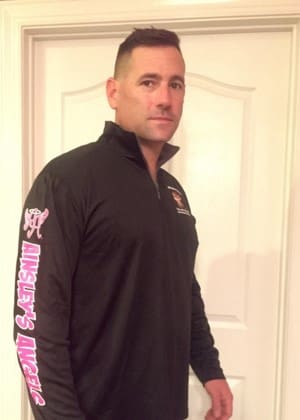 Major Kim Rossiter (Rooster), Founder and President of Ainsley's Angels of America
and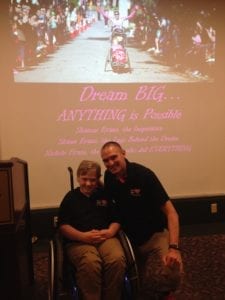 Dr. Shaun Evans, PT, Vice President of Education Ainsley's Angels of America
We offer inspiring messages about overcoming obstacles, finding a "new normal", and dreaming BIG in spite of adversity and challenge.
Our messages have motivated, inspired, and moved audiences at universities, professional conferences, businesses, schools, churches, community groups and more across the nation, and can be tailored to suit your requests.
Contact us at Education@ainsleysangels.org to inquire.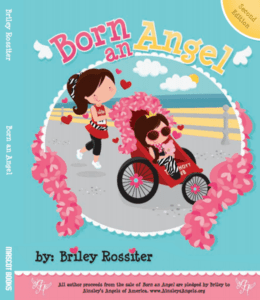 "Born an Angel" is children's book written by Ainsley's sister, Briley.  Illustrated by Jennifer Ware and published by Mascot Books, "Born an Angel" captures the inspirational story of two sisters determined to overcome the obstacles associated with learning of Ainsley's extremely rare progressive genetic nerve condition~Infantile Neuroaxonal Dystrophy (INAD).
This inspiring true story was written by Briley, Ainsley's then eleven-year old older sister.  Having an innate desire to spend joyful moments with her sister, Briley was introduced to Rick and Dick Hoyt and road race running. This story of sibling love will warm your heart and invigorate you to change someone's world for the better.
Originally released in May 2013, this 2nd edition was published in late 2017, and provides updates to the journey!
With your assistance, we aim to ensure this book can be found in every elementary school in America to help spread its message of Inclusion in all walks of life!
Order your copy today: Born An Angel
Education Blog- Educate to Empower
A weekly blog to offer insight, reflection and guidance for education, advocacy, and celebration of inclusion.
#1 Awkward interactions
#2 Start with a smile
#3 Watch your language
#4 People First
#5 Disability Awareness
# 6- Be the positive
#7 Accessibility
#8 Empathy
#9- Empathy continued
#10 Inclusion
#11 Inclusion continued
#12 More inclusion
#13 Illness versus Ability
#14 Caregivers
Those of us that are close with individuals with disabilities, or that use equipment to get around, know all too well that interactions with new people can often be awkward. Upon meeting Shamus in his wheelchair, some people speak to him as if he were hard of hearing (in reality, he can hear my wife Nichole and I whispering from 100 yards away with traffic rumbling by on our busy road), some people will speak to him as if he were an infant or toddler (he is nearly 13, gets straight A's and is headed to middle school this fall where he qualified to take accelerated classes), some people will simply hold their gaze on Shamus and his chair for an extra several seconds. While none of these interactions are ideal, there is an even worse interaction that we occasionally encounter. Those are the people who talk about Shamus as if he isn't there at all, uttering phrases such as "So what is wrong with him?" or "What is his issue?" or "What's his problem?" We often handle those encounters by first….taking a deep breath….and recognize that this is an opportunity to educate others, with a reply like "Shamus uses a wheelchair because he was born with cerebral palsy….we don't look at it as a problem, it's just a small part of who he is. He understands everything you say. He can hear every word you say.   He is a bright young man who does well in school. Just a few of his many activities include rolling, sailing, and skiing with the wind…He is has completed several triathlons, and running/rolling events from 1 mile to transcontinental journeys….not to mention he plays piano and baritone horn, and has a great singing voice….all you need to do is listen J"   Shay simply smiles that infectious smile and then answers follow up questions about some of the things he does…Like when someone raises an eyebrow and says "Transcontinental???" He nonchalantly replies "Yeah, in 2015 our family ran from Seattle to NYC for Ainsley's Angels giving chairs to other kids that want to roll like my dad and me". As the questioner stands there, often with mouth agape, we have the opportunity to hand them an Ainsley's Angels wristband and say with a smile "Website is on the inside".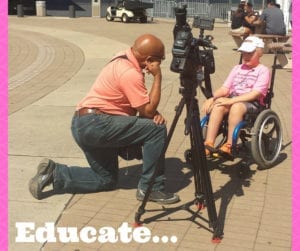 This week focuses on those interactions from the other side. How can/should we interact with someone in a wheelchair, someone who uses a communication device, or someone who is on a ventilator, or uses some other kind of equipment? That "unfamiliar" equipment often makes people feel uncomfortable. It is indeed different from the "norm". When teaching physical therapy students, they often make the following statement as we discuss interacting with people with disabilities "I never know what to say because I am not sure if they will understand me, or sometimes if they can even hear me at all". Of course, there are individuals who may have cognitive limitations, language barriers, or be unable to hear, but my response is "why assume the worst?" We should always treat others as if they do understand, they may not be able to make a response with their voice or even their body, but that does not mean that they can't understand, hear or process what we are saying. If the person is with a caregiver or family member they may step in and say "He/she uses a communication device or sign language, or doesn't speak English" which opens the door for us to work with caregivers as "interpreters" or even learn some of the basics of the specific individual's methods to communicate. At the very least we should always be courteous, kind and speak to the person rather than about them. Parents/caregivers and family can guide us. Equally as important is our nonverbal communication, remember our body language. Even if someone can't understanding everything you are saying, they can interpret your gestures and posture. It's best to be at eye level and begin with a relaxed, calm posture and soothing tone. When in doubt, begin by believing that everyone you interact with understands what you are saying and simply remember the age old golden rule by treating them as you would like to be treated.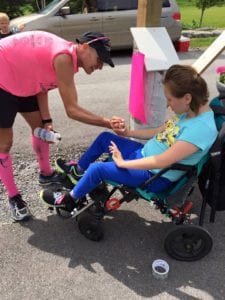 Watch your language 🙂  The next few posts will focus on the way we use our words. No, I am not talking about those four letter words that come to mind when we are told to watch our mouths. Instead, I am referring to the way we use words to describe others, specifically other individuals who may have disabilities/different abilities/special needs. One particular phrase that we often see when reading articles about someone who has a medical diagnosis is "He/she SUFFERS with cerebral palsy (or spina bifida, or autism, or a spinal cord injury, or muscular dystrophy, etc…)". The first time I saw that phrase written about Shamus was by a reporter who had come to know our family pretty well as we prepared to embark on our first Ainsley's Angels Power to Push mission. It caught me off guard because, I never thought of Shamus suffering from cerebral palsy, and he has never been one to feel like he is suffering. In fact, maybe a better phrase for Shamus would be "Shamus smiles with cerebral palsy 🙂 ". It would be a much more appropriate description. I don't think Shamus would ever want people to think he is suffering nor does he feel like he is suffering. Don't get me wrong, there are days that are a struggle. His legs are extra tight, his clonus (which he has nick named "Clyde") makes his feet tremor, he can't help with transfers as well, his "plumbing" isn't cooperating, etc. There are days that are tough, but by no means do they define Shamus. We all have difficult days, or days when we don't feel great but we don't want to be told "You look HORRIBLE". Similarly, someone with a medical diagnosis doesn't want to be told they suffer from it. They don't want their diagnosis to define them. Instead, someone needing to describe someone with special needs could do so in this type of fashion "Shamus is a bright, inspiring, young man, who dreams big and has an infectious smile. He also happens to have cerebral palsy and uses a wheel chair to get around most of the time, but he does not let it slow him down! He truly believes that anything is possible!" I don't know a whole lot about journalism, but I do know that words have incredible power and I also know that I would prefer to be lifted up by those words rather than pitied because of the way I am described. Think about the power of your words and how they can be used to build, encourage, motivate and inspire!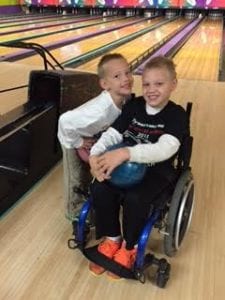 This week's post will continue to focus on the way we use our language when we discuss people with disabilities. Without getting in to many of the negative terms that are often used to describe people with mobility, cognitive or, physical impairments, we want to focus that the emphasis should be on the PERSON, not their abilities that may be different. The term for this is using "people first language". When in doubt always put the person first! For example rather than saying Ainsley's Angels is an organizations for "disabled people" it is preferred to say "people with disabilities".
Remember, a disability description or term is only a medical diagnosis.  It does not define the person with the diagnosis.  "People first language" respectfully places the PERSON before the descriptive term and also focuses on a disability as a small component of the whole person.  Similarly to having brown hair, or blue eyes, a child may have a diagnosis such as cerebral palsy or Down Syndrome but it is not their only or most important characteristic.Remember, a disability description or term is only a medical diagnosis.  It does not define the person with the diagnosis.  "People first language" respectfully places the PERSON before the descriptive term and also focuses on a disability as a small component of the whole person.  Similarly to having brown hair, or blue eyes, a child may have a diagnosis such as cerebral palsy or Down Syndrome but it is not their only or most important characteristic. Most of us don't want to be defined by any one term, we are all complex individuals with many facets to our personalities, varied interests, and several distinct characteristics. Along the same line of thought, it is preferred that we use language such has "He/she has autism" to the phrase "He/She is autistic". The second term implies that is all there is to him/her whereas the first phrase indicated that it is just a small part of all the other characteristics that the individual has.
These are small adjustments to make to our everyday vernacular and they may not seem like much but this type of language encourages inclusion, equality and respect.  Join us in making our words matter!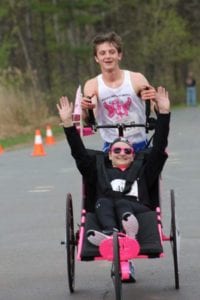 This post further discusses the way we describe disabilities. In fact, this post will focus on the word "disability" itself. What is the politically correct way to say someone has a disability? Currently, the "preferred term" is simply to say "person with a disability", NOT handicapped, disabled person, or stating he or she is disabled. It is important to reiterate that a disability is something that someone HAS, not something that they ARE.
Obviously, there are many other negative and sometimes derogatory terms that have been used to describe people with disabilities, but we won't even mention them here. The important thing to know is if you hear them, you know it, and you can use it as a "teachable moment" for the person that uses the inappropriate term.
All of that being said, some people with disabilities don't even like the term "disability" as it can take away from the abilities they DO have. Other terms that are frequently used in place of person with a "disability", include person with: "special needs", "different abilities", "physical/cognitive impairments." However, again, each of those terms aren't perfect as they each imply something is different, which can sometimes lead to the feeling of not being normal. That fact led me to ask Shamus which term he prefers. His response was that he prefers "special needs" as it has a slightly more positive "feel" to it, and I have to admit as his dad, there is no term that really feels great.
I then quickly realized that it should be a personal preference, and that's okay, and as long as we are being considerate, respectful and kind, it's not something we should stress about. Instead, we should have frank conversations with others, and if you hear terms that upset you or a loved one, or are simply disrespectful, rude or cruel, be sure to politely correct their verbiage.
What do I prefer that Shamus be called? I prefer that he be called Shamus, or Shay, or Shamey.  because that is what I always see first, my smiling son, and that is what I want everyone else to see too; not the wheelchair, not the ankle braces, not the spastic legs, or the developing scoliosis in his back, but his million dollar smile and his shining personality.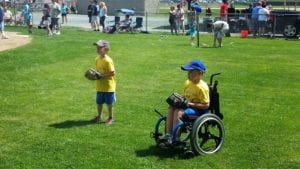 Be the Positive...
This week's post focuses on the use of the word "can't"
As recently as this weekend I was guilty of using the phrase "can't" in my own head as Shamus and I attempted back to back triathlons. After successfully completing our Olympic distance triathlon on Saturday, and sailing through our 1.2 mile swim in our half Iron Man distance on Sunday, I knew that the 56 mile bike through the Adirondack mountains would be our most difficult leg of the 6 we were attempting. My legs had recovered fairly well from Saturday's hilly bike and run, but the 25 mile bike ride on Saturday had left me with concerns. My bike wasn't shifting as easily as I wanted it to, and I had to dismount the bike due to the chain coming off once on Saturday. I had some saddle sores that I nursed as well as I could in the 18 hours between races. I knew I had trained hard all summer, specifically for the bike, but I hadn't towed Shamus as much as I wanted to due to a variety of reasons (schedules, weather, etc). All of those factors combined with the hilly course left me worried that we wouldn't be successful in achieving Shamus' goal of completing the "King George" challenge (back to back Olympic and Half Iron triathlons). I kept all of those concerns to myself and pedaled as hard as I could, remaining outwardly optimistic
After 20 miles of pedaling on tired legs I found myself constantly checking my watch, checking my speed, and calculating distances remaining. On some of the up hills we were only going a whopping 3 miles per hour! I desperately wanted to hop off the bike and start running up the mountains, figuring I could push the bike towing the trailer, faster than I could pedal it! To make matters worse I could not get my front gear shift to cooperate on a regular basis. I didn't want the chain to come off again and I didn't want to get stuck on the big ring knowing I would need the smaller gear to get me up the hills. At mile 25 I stopped trying to shift the front gear and left it on the smaller gear, my legs spinning as fast as they could, sapping my muscles with every turn.
As we got to the half way mark of the bike; 28 miles, I thought to myself, "it wouldn't be horrible to stop here…we completed the race yesterday and half the triathlon today…that's ¾ of what we set out to do" I was actually doing the math in my head. Shay and I had been chatting a bit, admiring the scenery of the Adirondack Park, beautiful mountains around us, riding along rivers and around lakes. As we visited Shamus played us some tunes to set the pace and lift the mood. As I spun up the hills he would play the "Rocky" theme or Imagine Dragons "On top of the World". He knew the tunes I needed. I plodded along, thinking to myself as I kept calculating the numbers…."I don't think we can make the cut off". We needed to get to mile 50 by noon before traffic control was removed from a dangerous intersection on the course. Bikers passing us from behind were few and far between at this point. DJ Shamus' tunes kept me going for a few miles until the battery on the speaker died. At about the same time I realized I was quickly becoming depleted of nutrition. I had been diligent about taking in calories and hydration but had nearly run out of my supply on the bike. Nichole and I had been smart about our hydration plan and I thought I had enough fuel on the bike to get me through the 56 miles with extra to spare. As far as I knew she didn't have anything extra in the van and we weren't anywhere near any stores and even further from our supply back at the start/finish line. Unbeknownst to Shamus, I ingested my last gel pack and pedaled on hoping to get to Nichole and Simon and my brother in law, Greg, where I could start to set our plan in motion if we weren't able to make the cut off. I know the race directors would let us stay on the road as civilian riders, but if we were going to complete the challenge, I wanted it to be legit. Who could help us get back to Lake George with all of our gear? In my mind, I was making plans to give up. I didn't see any way possible I could average the speed I needed to make the cut off. As our speaker cut out, I broke the news to Shamus. "Shay I don't think we can make the cut off in Warrensburg. We have to average about 12 miles per hour for 2 hours to get there" I felt horrible saying it out loud, but I didn't want him to be devastated when the time came and we didn't make the cut off.
"You are doing awesome dad, just keep going, we will make it…I know we can". Shamus is often a man of few words, especially during races. He kept repeating "You're doing great dad, we got this" as every little hill we climbed felt like Mount Everest and occasionally we had to snake our way up. His response was simple, sweet, and all I needed to get us to that pink van in the distance. I simply responded to him each time "Thanks, buddy, keep pushing". Either way I still didn't have enough fuel in me to make the speed. My legs churned as fast as they could and my speedometer registered a maximum 10.5 mph as it felt like I was pedaling uphill at all times. How could I possibly increase our pace and maintain it for 2 hours. Enter the pit crew!
I gave Nichole the sign for "eat" from the bike. She had a water in her hands but quickly realized that wasn't what I needed. "Do you want a bagel?!" She shouted, though I know she didn't have any with her, she must have known where she could find one. I shook my head 'no' and shouted for her to ask Simon if he knew where any of the clif bloks were. I thought I had taken them all out of the van but Simon had tucked one in the van door just in case (hero of the day!!!!) I road by and asked them to get them to me as quickly as they could. She met me at the next turn with the much needed fuel. I told Nichole I didn't think we could make the cut off and her response was as simple as Shay's…"You will make it". Greg shouted tips about how to pedal, ride and shift (he is an experienced cyclist) to keep my legs moving.
My mind was saying "Shaun, you can't do this!!", my team was saying "You ARE doing this! You will make it!" Their positivity and encouragement helped me to believe that it actually WAS possible. I began to slowly make the pace we needed. The hills decreased our average speed considerably but the fuel from Simon, allowed me to pedal a little harder on the level and downhill stretches to make up time. The gear still wouldn't shift so I kept my legs spinning at all times as fast as they would allow. At mile 40 we had 55 minutes to the cut off at mile 50 (and then another 6 miles to the transition to run). Shamus and I couldn't wait to get to mile marker 40 and count down the miles to our half marathon to end the day. We passed an aid station and they asked if we needed anything "More time!" I smiled "You got this!" they all shouted back. I started to believe we COULD actually make it. I guessed at distances the best I could, the odometer on my bike was off by several miles because it had fallen off the bike (and was retrieved by Nichole) earlier in the day. I pedaled as hard as posssible and Shay reassured me I was doing great and gave me the consistent message..."We'll make it". I had ridden the course several times but had not memorized mile markers. However, I knew we were getting close to Warrensburg. As we finally made our descent to the busy intersection, my watch read 11:53. We had made the cut off by 7 minutes. We still had some miles to finish, but we WOULD make it.
I am always telling Shamus he CAN do whatever he wants. We may have to make some modifications, or adaptations but he should believe he can. This past weekend, he was the one believing in us. I had let doubt and the prospect of failure enter my mind, where as everyone around me stayed positive, they believed we would succeed. That positivity is no doubt what propelled us to achieving our goal. We finished the bike and Shamus' smile helped us to sail through the 13.1 mile run.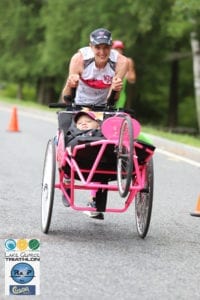 We are often quick to place limitations on ourselves "I could never do that......" (fill in the blank…run a 5k or marathon, complete a triathlon, ace that test, lose weight, get a promotion, ask for a raise…etc). or we place limits on others and pass quick judgement "They could never do that, they are too (old, young, big, small, etc)". We set ourselves up for CAN'T when we should be setting ourselves up for CAN. WE need to surround ourselves with the people who are positive, who believe in us and want us to excel. And, maybe even more importantly, we need to BE the positive in someone else's life, because at times we will all have doubts about our own abilities, why not be the one who encourages, cheers, believes and helps to propel someone to success. BE the smile, BE the "You got this", BE the "YES, YOU CAN". The power of those words just might change someone's day!
Accessible
Accessibility is an especially important term when you use wheels, or a walker, or any other type of assistive device to get around the world. We are fortunate in the United States to have the Americans with Disabilities Act of 1990 which prohibits discrimination of individuals based on ability and also imposes accessibility requirements on public accommodations. However, while our country may be leaps and bounds ahead of many others we continue to have room for improvement.
When I was in college studying to be a physical therapist, one of the most eye opening lab projects we had was to spend the day navigating our campus and the community in a wheelchair. We were given specific tasks to complete by our professors. Some of the tasks were order a sandwich at a local sub shop, check out a book from the education section of our school library, meet with a faculty member in our college's main building, roll across the street and down the sidewalk to the bank to make a transaction, attempt to take public transportation, etc. The task list looked easy to our group. We figured we could finish the "scavenger hunt" like list quickly and then spend the afternoon studying for our upcoming exams. We had no idea of the true obstacles that were being presented to us. We were all able bodied individuals, and though we had spent several semesters working with patients who required assistive devices to get through their day, our early twenty something brains never processed what those patients encountered outside of the clinics, hospitals, or rehab facilities in which we worked. Those places had been designed and built to be complete accessible, from entry to bathroom, to check in and check out, everything was at the right height, and floors were level and smooth with ramps at the proper angle for ease in ascending or descending.
As soon as we attempted to leave the building in the wheelchair with one of us riding and the others assisting as needed, it quickly became evident that this would indeed NOT be easy at all. We were immediately greeted with a sidewalk in disrepair with "northeast winter" potholes and deteriorating pavement so large, that there was no way to travel on it with wheels. The mud along the edges of the side walk was also so deep that there was no way my classmates could push me in the chair through it. Our solution was for two classmates to carry me over the sidewalk while the third dragged the chair. It wasn't easy and while we felt accomplished in overcoming the obstacle, we quickly began to realize the "real world" problems we were up against…What if the wheelchair rider had been alone? There was no alternate route. And even if they did have family members/friends to assist we know that transferring and carrying is not always an option. Our eyes were being opened as we looked at the next task, trying to take public transportation. We headed to the bus stop knowing that a taxi would not likely be able to accommodate a wheelchair. The bus arrived on schedule but the bus driver indicated the lift was not working, he would call for another bus to come for us. We waited patiently, but another bus would not arrive for nearly an hour!
Every task proceeded in much the same way. At our school library, our task was to retrieve an education book, and the education section was on the second floor. Our library had been in a historical building so according to the ADA there doesn't have to be an elevator or stair lift as long as there is reasonable accommodation.   The reasonable accommodation in this case was that a librarian could retrieve the book for us. While all of that seemed okay, I realized as I sat in the chair, sometimes I like to go to a library just to browse the titles on the shelf, not knowing exactly what I want to check out, there was no way I could do that as I waited for others to help. It may seem like a small thing, but I realized that simple independent tasks or luxuries or freedoms to go or do what I wanted were no longer there. That day I relied on classmates to push me up ramps that were way too steep to propel myself, to push me over thick carpet, to help me over, through and around countless obstacles.
Next on the list was to use a handicap accessible public restroom. We knew right where to find a fairly clean one off campus so we headed there. When we got to the location there was a sign on the door that read "out of order". There was only one handicap stall and as we tried the others we realized there was no way of getting a chair in. Rather than having my classmates carry me we decided to see if we could find a usable handicap accessible (ADA compliant) stall. Two restaurants and one gas station that we went to did not have stalls large enough to accommodate a wheel chair. Finally we found a store with one handicap accessible stall that was usable. However, when we got there it was occupied. It was a large store and there were 9 other stalls that were unoccupied but none of them could accommodate a chair. We waited patiently for the person to exit. We expected a wheelchair, or walker, or cane, or crutch, or perhaps someone who was obese to walk out, but that was not the case. It was simply a young , fit, able bodied man who greeted us with a perplexed look as we waited in the rest room and he uttered something about it "being more comfortable" for him in the larger stall. Again, we were just students, completing a lab project for school, but what if a person in a wheelchair really needed to use the bathroom. We had traveled throughout the city to find one that would work and when we had it was being used by someone who could have used any of the other 9.
I could go on and on about examples from that day as we encountered countless challenges, and obstacles on seemingly simple day to day tasks (reaching groceries on a high shelf, pumping gas, ordering a sandwich at a bar that is overhead height, etc). Not to mention the looks we got from strangers as we wheeled about campus and throughout the city. No none knew we were doing a lab project, for all they knew, wheels were our means of mobility. Some looks felt like we were being pitied, others felt like scorn and some were in between. Some people offered to help, some people quickly looked the other way. Perhaps they didn't want to be asked to help.
Nearly 20 years later the memories of that day are still vivid in my mind. I now encounter those obstacles and more on a daily basis as we help Shamus to navigate the world with his wheels. Stairs, 6 inch thresholds into down town restaurants, ramps that are too steep, terrain that is impassable with wheels and Occupied handicap accessible stalls (sometimes by people who need them, sometimes not, but more often than not there are only one or two accessible stalls at any given location) are a daily occurrence.   Luckily, I can still lift Shamus and get him into a standard bathroom stall if needed, can carry him up and down stairs or bump him up and down curbs, but I know for many people that is not an option. Lots of people who use wheels don't have a constant caregiver at their side to open a door, help across a damaged sidewalk, reach something on a high shelf, push them up a steep ramp, etc, etc, etc.
The goal of this post is awareness, understanding, and hopefully advocacy. First, being aware of the obstacles that exist that many of us would have never viewed as an obstacle, then having understanding and remembering to reserve those handicap stalls, seats, parking spaces etc for those who really needed them, and finally being helpers when we can, offering to assist with doors, high shelves, a boost, etc and maybe even advocating to public officials in your town, school, or neighborhood when you see something that could be made more accessible. Don't look the other way, there are opportunities to help every single day!
#TogetherWeShall promote inclusion!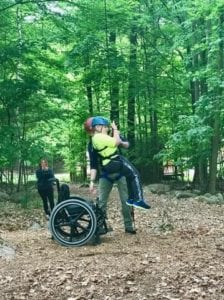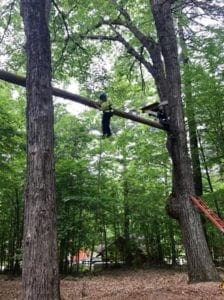 Building on last week's post about accessibility, this week will focus on empathy. Empathy is a very difficult thing to teach and can often be difficult to truly feel. By definition empathy is the ability to understand, or feel what another person is experiencing from their frame of reference. In other word's it is the ability to put yourself in someone else's position, to experience the world form their perspective.
In some cases it is easier to do than others. The more similarities we have with the person/group we are trying to be empathetic to, the easier it is to imagine their point of view. Likewise, if we have had an experience in our past, we can often better relate to others having a comparable encounter. However, it is important to note that saying things like "I know what you are going through", or "I have been through the same thing" often aren't that helpful, as no two people experience the same event (let alone similar events) in the exact same way. We are all unique, have different perspectives, coping strategies, motivations, goals, interests, support systems, etc. Empathy is more about having respect for others experiences, responses, and needs, by imagining one's self in that person's situation. In fact, empathy can be viewed as the foundation of the "golden rule".
It can be very difficult to have empathy for others who have abilities that are different than our own. It can be challenging for us to even imagine what obstacles may be encountered on a daily basis, which is why last week's post about spending a day in a wheelchair was such an important event in my life. I had spent quite a bit of time with people who used wheelchairs, walkers, etc, when I was in PT school, but by actually experiencing it for a day I was provided with a whole new level of empathy that up until that point I could not have imagined (read that post here www.ainsleysangles.org/education).
Even still, I constantly find myself thinking about how Shamus would encounter situations. What it must be like to have to request assistance with so many things that we all take for granted….adjusting himself in bed, covering himself with the bed sheet if he kicks it off in the night, using the bathroom, getting dressed, moving from one chair to another, stretching out his legs, getting things that are too far back on the counter, and on and on. Even in our country where areas are designed to be accessible he requires help in reaching soap dispensers and sinks in public bathrooms, opening doors, and moving about the world. Shamus has been an amazing gift to our family for so many reasons; his drive and determination, his ability to dream big and believe, and equally as important, his ability to offer us all perspective. He goes about his day with an ever present smile, reminding us to stay positive in the face of any challenge.
Of course, we understand that there are many people out there who require more assistance than Shamus, who aren't able to communicate with words or sometime even sign language, who require much more medical care and intervention and medication and surgeries. It is difficult to imagine what those individuals and their caregivers encounter each and every day, but we do our best to empathize and truly appreciate all that they do.
Despite, all of that, there are times I have to take a step back and remind myself to be patient and more empathetic in my daily life and even in my own house. It is a constant practice. Empathy starts with a good imagination, and the ability to truly picture one's self in a foreign situation can be challenging. Self-reflection can definitely help. And of course, being more empathetic isn't just for interacting with strangers. We can all be more empathetic in our everyday relationships.   The goal is compassion, understanding, kindness, and willingness to step in to assist, offer support, and advocate when appropriate. Together, we shall!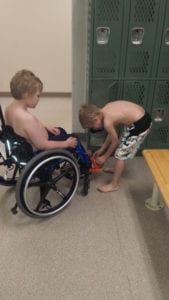 This week's post will further discuss empathy:
This past weekend Shamus and I completed our third Ragnar relay from Saratoga to Lake Placid. We are thrilled to have the opportunity to represent Ainsley's Angels and promote inclusion as we participated in the 12 person relay covering nearly 200 miles through the Adirondack Mountains. It is a simply gorgeous (yet very hilly) run and we have been blessed each year to be on an extremely supportive, caring team of runners.
While spending 34 hours together running, laughing, eating, attempting to sleep, packing and unpacking Shamus' running chair and running some more it became evident that not all of those we encountered were as empathetic as our teammates. There was a definite distinction between the various levels of "…pathy" that could be found while we were in between running legs and at established "rest areas" along the course
Starting with apathy…As Shamus and I attempted to enter the school that was set up as a shelter for sleep, to grab something to eat and to use real bathrooms with working plumbing, we quickly realized that the areas were not designed for a Freedom chair to easily pass. We knew that having only the Freedom chair would present challenges in Shamus' off time (when he wasn't rolling on the course), however, due to having a van full of runners with all of their gear and no additional space for a wheel chair, we understood that his freedom jogging chair would be his wheels for the weekend. As we approached the school door I immediately turned the chair in reverse so I could pull it through the entrance rather than running to get the door, running back to the chair and trying to push it through before it shut. We have had lots of opportunities to practices without people around to help us with a door. Once in the school we headed to check out the "accommodation" (designated sleeping areas where we could rest our eyes and warm up for a couple of hours before resuming running through the night. Several students and their adult advisors were sitting at tables that were blocking the path of anything wider than a 1 foot wide runner. They were set up to collect money as a fundraiser for their school. $1 to sleep in the gym, another $1 if you wanted a mat to sleep on, $2 to use the showering facilities. Fair prices for all, a great fundraiser for them and some thanks from Ragnar for letting them use the school as a pit stop. As we approached the table to get through pack of runners, several people avoided making eye contact with us, others scattered from the table, leaving Shay and I to figure it out. It wasn't a big effort to move the tables and navigate Shamus through the maze of chairs strewn about. I asked a few people passing by to help shift a chair or table as needed and they were happy to oblige, but I have to admit I was a little surprised at the apathy we were greeted with. The definition of apathy is "lack of concern, interest or enthusiasm". I was surprised by apathy in that moment because nearly everyone we were encountering was so full of energy and willing to help. However, I also understand how it can happen, especially in a group. If one person is apathetic it can be contagious, especially if that person is viewed as the leader. In the case one of faculty/parent was preoccupied and didn't really notice us having to move several pieces of furniture. Perhaps the students or other adults didn't know exactly what they could do, or if they should help. When one person doesn't take initiative (especially if that person is viewed as the leader) it can be difficult for someone else to take action.
The second type of "…Pathy" we experienced during Ragnar was "sympathy". Sympathy can be defined as feelings of pity and sorrow for someone else's perceived misfortune. This came in the form of sad looks from others while I was transferring Shamus from the gym floor back to his chair, or from his freedom chair to a porta potty along the course. Those looks were few and far between and often short lived as they were nearly always interrupted by one of our teammates aiding in the transfer, holding the chair, or holding a porta potty door for us. I was simply left wondering what differentiates the people who feel pity versus the people that step in and help. It may simply be a level of comfort, experience or exposure to people with different abilities.
Finally, by far the most prevalent "…pathy" we experienced during Ragnar was "empathy" or the "ability to understand and share the feelings of another". So many volunteers, spectators, and runners along the 200 mile course were inspired by Shamus and could truly feel the love and joy that our van was able to experience by having him as the leader of our team. They wanted to get involved, wondered how they could help, not only in the moment but with Ainsley's Angels in the future. They gave a nod as they held doors for us and patted us on the back as they ran by. They made it a point to go out of their way to find us at the finish and tell us how incredible our effort was. Of course we always defer to Shamus' smile and the fact that he rolled more miles than anyone on the course that weekend as the true inspiration and guiding force.
I think too often we are surrounded by a prevalence of apathy and a lack of empathy. Sympathy falls somewhere in between where people, rather than being moved to act by an emotion, are left feeling sad. Our goal is for everyone who sees what we do and what our Ainsley's Angels across America do to discover their inner empathy in order to be inspired, motivated to help, and be kind. Our mission goes beyond simply getting individuals involved. While that alone is a worthwhile goal, we aim for more. We aim to change perceptions and stereotypes while encouraging empathy and humanity and promoting kindness and caring for all.   Together, we shall accomplish so mush more!!!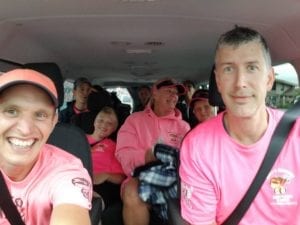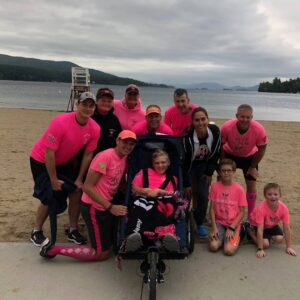 What is inclusion?
By definition inclusion is the "action or state of including others within a group or structure". In history there are many of examples where there have been movements for inclusion. Desegregation of schools, women's right to vote and the Americans with Disabilities Act are just a few. The term inclusion became a common phrase when schools across the USA strived to have students with special needs spend most or all of their time at school with students without disabilities.  Over the years policies have been created that aim to give equal opportunities to everyone in schools. Of course there are barriers of accessibility to still prevent total inclusion and obviously, inclusion shouldn't just be the focus of schools. It needs to be the goal of our entire community and, ideally, the entire human population. To be truly inclusive we need to recognize our universal "togetherness" and interdependence on one another. Inclusion focuses on the realization that we are one, even if we are not the same. If it helps our minds to place ourselves in a category (because that is the way we have thought for so long), then our category should not be based on ability, gender, race, national origin, etc. Instead, let's consider ourselves Earthlings. Focus on our commonality, not our differences. We are ALL Earthlings (at least everyone I know J ) and for so many reasons we need to view ourselves as such and work together toward inclusion for ALL. Yes we have many differences. We are all unique individuals but through true inclusion, we can celebrate those differences (in opinions, personalities, beliefs, etc) leading to more opportunity for open discussion.
So what does it really mean to be included? In the most basic sense, being included is being made to feel welcome. Conversely, exclusion can lead to isolation. Most of us have had the unfortunate opportunity to feel "left out" at one time or another, whether it be not being invited to a party, or not getting picked for a team, or not being accepted at the "popular" table in the cafeteria, etc. By promoting inclusion the goal is to limit that feeling of loneliness.
From a physical ability stand point there may be limitations to what someone can fully participate in. When Shamus was small, I remember him being invited to a birthday party where the focus was a bounce house obstacle course. The parents were concerned that Shamus would feel left out but their child really wanted him to be there. While we knew that Shamus couldn't physically jump and run through the bounce house maze and obstacles, we were excited to go to the party to see how we could make it work. Shamus was content to let me take him into the bounce house where he stayed on his knees as his friends jumped around him. He smiled with delight and I simply kept a close watch and repositioned him if he fell. When it came time to run through the obstacles, Shamus and the other kids welcomed me in to act as Shamus legs and balance. We had a blast bouncing off the walls, climbing over and under inflatable barriers and sliding down the slide….and what a work out! If we fell we bounced right back up.
Initially the parents of the child celebrating their birthday had thought to exclude Shamus to protect him from feeling left out of the party activities. To this day I am grateful that they called and gave us the opportunity to choose, as the smiles and giggling he had at that party filled everyone in attendance with joy. Inclusion does not mean that we all have to do something the same way. In fact, inclusion means figuring out different ways to allow for participation of ALL. By striving for inclusion we are forced to be creative, innovative, and cooperative.
As Shamus has now entered middle school, inclusion is more important than ever. Of course, he has his Ainsley's Angels family where he always feels welcome, and he is surrounded by great classmates at school who have grown up with him, but Nichole and I want him to continue to feel free to explore extracurricular activities at school. He has been involved in band and his band director has been great at figuring out ways for Shamus to be able to hold his instrument, get on and off the stage for performances and rehearsals, and even has a second instrument at school so that Shamus doesn't have to haul his big baritone horn back and forth. Likewise, his teachers accommodate by letting him have a second copy of text books at the house. To safely haul everything back and forth he would need a trailer for his wheelchair!
While we understand that interscholastic athletics aren't necessarily in the cards for Shamus, we didn't want to rule them out completely. He loves sports and has more school spirit than almost anyone. Although he can't safely be on the field representing his beloved school he has become involved as the scoreboard operator, score keeper, manager and all around super fan of the Galway Golden Eagles. He celebrates victories and cries in defeat. But even when he is sad after a loss, it is obvious that he feels included!!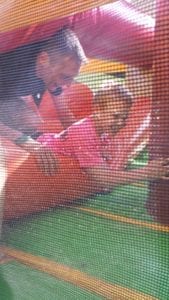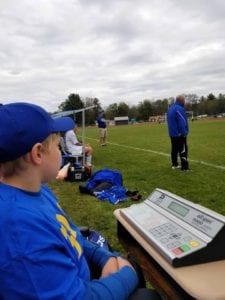 Barriers to inclusion:
Last week's post focused on what inclusion is, this post will focus on what things often prevent inclusion. In previous posts we have examined the environmental barriers that exist to allowing for inclusion. Many buildings simply aren't built to promote accessibility for ALL. While many people often see this as an issue only with older buildings, the truth is, even newer construction is not always fully accessible or designed to accommodate. Doors without handicap accessible push buttons, door that swinging a direction preventing passage with wheels, door widths, placement of stairs and steps, elevated thresholds, etc are all areas that could be easily addressed when designing a building if only a person with expertise in accessibility were asked for guidance. (See previous posts for more detail on accessibility at www.ainsleysangels.org/education)
While environmental barriers do pose a huge obstacle for inclusion, perhaps the bigger and more prevalent obstacle to inclusion is often attitudinal. Prejudice, discrimination, stereotype and stigma present extreme challenges for anyone who is "different". The biggest challenge is providing the education to those who have a closed mindset. Perhaps the best, and maybe only, way to overcome a closed mindset is to have a more persistent and positive growth mindset. Overpower the pessimism with optimism. It is easier said than done because another barrier to inclusion is fear. Not only is it the fear of something/someone that is different, but it is also fear of change. In order for inclusion to exist we often have to overcome ideas that have sometimes been in place for years, decades, centuries or even longer.
This is where we often encounter excuses. After the proposal for inclusion has been made we encounter obstacles such as "The changes will cost too much. Where will we get the funding?", "We will need special training for staff/employees…we don't have any time for additional training", "There are no policies or guidelines to follow and I don't know how to include 'them'", "What will the rest of the group (students, co-workers, etc) do as we try to include 'them'?", and on and on and on. When something is new or different, a natural reaction is fear of the unknown that progresses into excuses/reasoning as to why we should not proceed with the change.
In reality, the best answer is to face the fear and proceed with inclusion. At first there may be (probably WILL be) challenges, but by pushing toward inclusion rather than shying away we can be provided with incredible new perspective.
In our own family we encountered a microcosm of this when Shamus developed the idea of our family wanting to run across the USA. In this case, the inclusion was Shay wanting to accomplish something he believed possible, a combination of him seeing a boy "cartwheel across America" on TV, and having vaguely known that I had read a book about a 1928 run across America (and after I read it had no desire to ever attempt it). The inclusion didn't necessarily have anything to do with him having physical limitations. He wanted to be included in an effort to do something BIG. Nichole and I intially discounted his idea. At first we thought his dream would quickly pass. It did not. True to form, we then began to make excuses. "It will cost too much…I can't take that kind of time off from work….We aren't sure if it is physically feasible…"excuse after excuse. We were happy with our status quo, but Shamus believed, and persisted and wanted to be a part of something more. Eventually he sold us on the idea. Still terrified, we proceeded with planning and fundraising and a short time later we joined forces with Ainsley's Angels and the power of positivity allowed not only Shamus to achieve his goal, but also brought inclusion to cities along the way. Persistence and optimism and team work and hard work and simply moving forward one step at a time paid off as Shamus propelled a mission of love and inclusion across the nation. As we aim to continue to spread inclusion, we know there will be obstacles, barriers, and naysayers, but through persistence, positivity, education and unity we will continue to make strides toward inclusion for all. Together, We shall!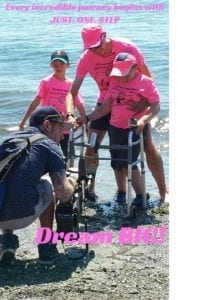 Inclusion
The last 2 posts have focused on inclusion, but since inclusion is our goal, I figured another post on the topic is appropriate. Read all previous Educate to Empower posts at: www.ainsleysangels.org/education
This week's post will focus more specifically on the inclusion provided by Ainsley's Angels. Indeed, on the surface we are a group that strives to have people of all abilities included in endurance events. We are a group of rider athletes that are our heart and soul, people willing to lend their legs for a run, and volunteers who help to make it all possible. We all advocate, educate and celebrate the mission on a daily basis both individually in our own day to day lives and collectively as we share a vision of inclusion across America.
A critique that I have heard, albeit on rare occasions, is "What you do with Ainsley's Angels is great, it gets people involved and brings lots of smiles, but do you really feel like you are making a difference? The kids are just along for the ride…Is it more for the runners? Could you do something so the participants could be more active?" This conversation has come up on more than one occasion, often in moments with people asking honest questions at race or Abilities expos. I love it when the questions are asked because it opens the door for conversation and allows an opportunity for education!
YES, ALL of our angels make a difference. Is it more for the runners? There is no doubt that our runners love the experience. Angel Runners are inspired and moved by our rider athletes. Personally, I have found that the honor and privilege of being the legs for someone else is so much more rewarding than any race I ever ran on my own, but there is no doubt that we are a team, truly embodying our motto "Together, We shall…". Angel riders have the opportunity to feel the wind in their faces and participate in the lifelong sport of running. Many of our riders are physically unable to make their bodies move fast, or turn quickly around a corner, or climb to the top of a hill. Together, we are able to accomplish those things and so much more that bring smiles, belly laughs, adrenaline rushes and joy that cannot be duplicated. Runners, riders and volunteers alike advocate inclusion on a daily basis in our communities. YES, we are all making a difference, on race day and beyond!
Race day is what is most visible to those not directly involved with Ainsley's Angels, but it is truly just the top of the ice berg. Yes, there are opportunities for our rider athletes to be involved in other events and opportunities both through and Ainsley's Angels and different venues. Ainsley's Angels is often an opportunity for our riders to be included with EVERYONE. Think about the tens of thousands of runners we will be toeing the line with at the Marine Corps Marathon. Many of the opportunities presented to our riders are excellent opportunities, but they are only for individuals with special needs. They are incredible activities, camps, and events, but they aren't as fully inclusive as what we do each and every weekend as we roll with the wind side by side with ALL participants, encouraging, motivating, and educating along the way.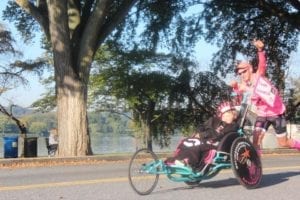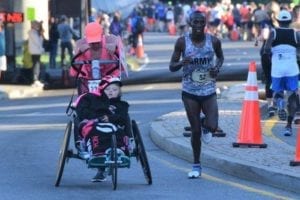 #13 Illness versus Ability
Illness versus Ability-
One misnomer that people with physical limitations often encounter is that they are "sick". While there are some diagnoses/illnesses that can present with disabilities, the simple fact that someone has limitations does not always mean they are in poor health. A person may have blindness or hearing impairments. They may use a walker, wheelchair, crutches or leg braces. They may be missing a limb or have mobility limitations in an extremity. However, none of these mean that a person is sick.
When people would first meet Shamus when he was young they would often worry about getting too close to him, worried that they might "catch what he has". In this case a little education goes a long way. Frequently as Shamus met people in our community we had to educate parents and children who might be cautious.   We give a brief explanation about cerebral palsy, that it is something that affects Shamus' nerves and muscles. He may use wheels, braces and a walker, but he has been very healthy and there is nothing contagious about his diagnosis. Nichole and I have always expressed that we are EXTREMELY grateful and blessed that we were fortunate to have TWO very healthy children. In fact, as Shamus and Simon grow, Shay has often been the "healthier" of the two, rarely ever needing to go to the doctor for anything other than an annual physical, while Simon has an occasional ear infection or stomach bug.
Of course there are situations where individuals who have physical limitations also have broader disease processes that may lead to a compromised immune systems, breathing difficulties, etc. It is simply important to note that ability/mobility and health are not synonymous.   Together, we shall educate!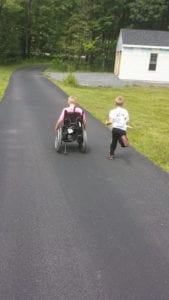 Caregivers-
Over the next few weeks the posts will focus on caregivers, those individuals who provide assistance to others on a daily basis, an often taxing, unpaid and challenging role.
When I was in high school, as I pursued options of what I wanted to do with my life, I quickly discovered that I wanted to be in a "helping" profession. I quickly narrowed that down to health care and from there zeroed in on physical therapy. While I loved sports, and played sports, I was not drawn to physical therapy to help athletes or be therapist for a professional sports team.   While I am sure that would have been rewarding in its own right, I knew that I wanted to become a pediatric physical therapist. I wanted to work with children to help them reach goals, accomplish tasks and make progress in areas that might not seem possible at first glance. I knew the career choice would be challenging, and emotionally taxing at times, but I also knew that the reward of helping a child to overcome and obstacle would be significant.
Throughout college I set my sights on gaining as much knowledge as possible about pediatric physical therapy. I took extra classes centered on growth and development, pursued a minor in psychology with an emphasis on family counseling and sought additional internships at Boston Children's Hospital, Shriner's Hospital and Dartmouth Hitchcock.   All of those opportunities provided me with a strong foundation as I entered my final years of study and entered my clinical affiliations. However, the most eye opening events took place once I was in the clinics working with children and their families. I was immediately amazed at the dedication and devotion, as well as exhaustion and emotional fatigue of the caregivers of the children I was spending my days with. I worked with children with muscular dystrophy, cancer, spinal cord injury, cerebral palsy, autism, Down's syndrome and more. There were also several diagnoses I had never even heard of and I was impressed at how well educated the caregivers were on the rare disease processes they were encountering. I quickly realized that although they were coming to me for "help" in improving their child's motor function, they were the true experts. While I spent an hour or so a few days a week with their child, they spent nearly every moment of their day caring for them. The caregivers intently listened to any advice I could offer about positioning, stretches, or exercises they could help the child with at home and I was grateful to be a respected part of their team. However, as a young man in my early twenties it was nearly impossible for me to imagine what these caregivers were truly accomplishing on a daily basis…caring for children who were, in some cases, very sick, or fragile, with significant physical, and sometimes cognitive, limitations. At the time I had no wife, or family but it was not lost on me that when I went home to study each day, write in my journal, and ponder my research project, even though I was exhausted, I realized the families I was working with each day didn't always get the luxury of doing some reading, or writing, or even time to sit and think. They were still full time caregivers. Of course, I had no idea that I would one day become a caregiver of a child with special needs, but the lessons and respect I earned for those caregivers in my final year of college were perhaps the greatest knowledge I gained in all my years of schooling. I learned about the power of love, perseverance, and what it truly means to care for another person.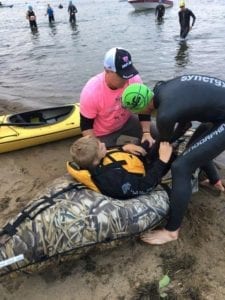 Motivational and Inspirtational Speeches
Literary Works
Motivational and Inspirtational Speeches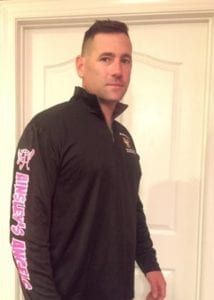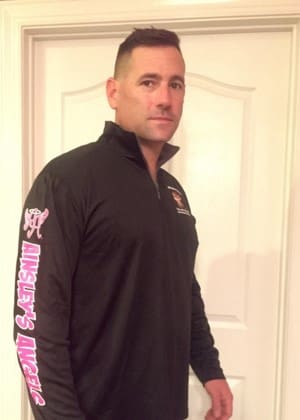 Major Kim Rossiter (Rooster), Founder and President of Ainsley's Angels of America
and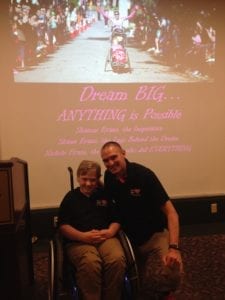 Dr. Shaun Evans, PT, Vice President of Education Ainsley's Angels of America
We offer inspiring messages about overcoming obstacles, finding a "new normal", and dreaming BIG in spite of adversity and challenge.
Our messages have motivated, inspired, and moved audiences at universities, professional conferences, businesses, schools, churches, community groups and more across the nation, and can be tailored to suit your requests.
Contact us at Education@ainsleysangels.org to inquire.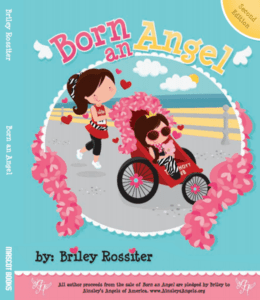 "Born an Angel" is children's book written by Ainsley's sister, Briley.  Illustrated by Jennifer Ware and published by Mascot Books, "Born an Angel" captures the inspirational story of two sisters determined to overcome the obstacles associated with learning of Ainsley's extremely rare progressive genetic nerve condition~Infantile Neuroaxonal Dystrophy (INAD).
This inspiring true story was written by Briley, Ainsley's then eleven-year old older sister.  Having an innate desire to spend joyful moments with her sister, Briley was introduced to Rick and Dick Hoyt and road race running. This story of sibling love will warm your heart and invigorate you to change someone's world for the better.
Originally released in May 2013, this 2nd edition was published in late 2017, and provides updates to the journey!
With your assistance, we aim to ensure this book can be found in every elementary school in America to help spread its message of Inclusion in all walks of life!
Order your copy today: Born An Angel